'Ecobears is a concept that was created by Yvonne Jane Wright & David Antony Sterricker, and began February 1996. Ecobears include teddy bear characters, gifts, accessories, mascots, books, illustrations, cartoons, toys & games – to bring a global awareness of eco materials & alternative (solar) energy. Ecobears began life many years ago as a combination of two passions: soft toymaking and environmental interest – with the very first ecobear named Harvest born on February, 29th, 1996.


Using a hemp/recycled cotton/recycled wool mix fabric, which was very unusual at the time, making ecobears the first toys of the 20th century to be made from such materials. We were honoured with Best Newcomer Award from the British Toymakers' Guild.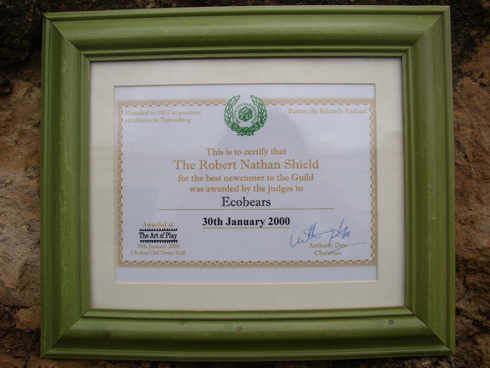 This was awarded at The Art of Play – 30th January, 2000 – Chelsea Old Town Hall. The British Toymakers' Guild was founded in 1955 to promote excellence in toymaking.
We undertook the adventure of a lifetime in 2003, when we sold our home in the UK and took off in a caravan with two cats & two dogs for greener pastures.
After travelling through France, Spain, Portugal & Morocco, we settled in Catalunya and set to building a house off the grid. That meant figuring out how to collect our own water, grow our own produce, tend chickens & gather electricity from the sun – hence bringing a greener lifestyle.


After several years we were proud to be able to continue designing and handmaking ecobears – sewn on the finca, using photovoltaic solar energy to power the sewing machines in the workshop. Plus to research and develop new ideas for products. As we live off grid, it is essential to have solar energy here. So hopefully ecobears are little advocates for the use of this kind of alternative energy.
We have now all moved to a new place in a different part of Catalunya – amongst the orange groves and mountains.  We now continue to live off grid and create ecobears using solar energy.


The materials we use are probably the most important part of making an ecobear. The majority of bears are still made (as they were in the early years) using vintage English hemp/recycled cotton/recycled wool mix fabric. This particular material dates back to 1993 and was produced in the UK. We use two different kinds of stuffings; both are 100% recycled. Italian olive wood buttons are used for the limb joinings. Black glass & safety eyes are used accordingly.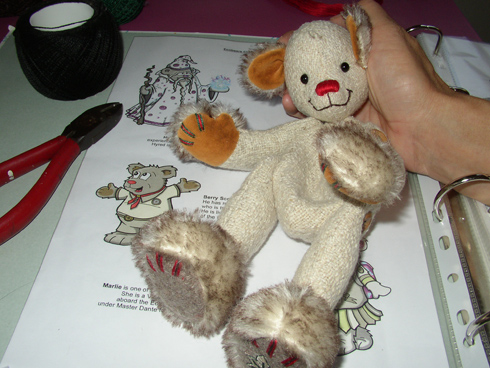 Also Irish flax, mohair, cashmere and all kinds of new recycled fabrics, as well as bits & pieces or 'reclaimed' material that we carefully choose. For other bear clothes & accessories we may use pieces of 100% hemp; hemp/organic cotton; hemp-silk; raw silk; ecofelt made from recycled soda pop bottles; and any other ecofabric we like the look of.
Adoption
Every ecobear will leave the workshop with a little bit of sun in their heart, and also his or her very own artist signed adoption details, printed on recycled card. It has personal details such as: Name; Date of Birth; materials used to make the bear, etc.
The Future
Ecobears collaboration continues to go from strength to strength, and we are very excited about the future. Ecobears are here to help educate, provide fun, personality and entertainment. We also show what lovely things can be made from Earth Friendly fabrics.
We hope you have fun & enjoy our website! Feel free to contact us any time.