Description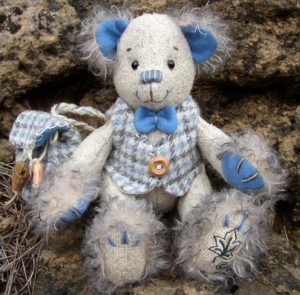 Meet "Woodruff" a One of a Kind Ecobear, sporting matching blue/cream check waistcoat & ecosac made using P.E.T. – plastic from recycled soda pop bottles.
Woodruff's furless coat is made from porridge coloured English hemp/recycled cotton/recycled wool. His inner ears, paws & ecosac interior are made from blue reclaimed felt. His outer ears, paws & boots consist of two tone grey mohair.
Woodruff has black glass eyes & olive wood button jointed limbs attached with Irish flax. He's filled with 100% recycled carded cotton thread waste. His features are hand embroidered using perle cotton. He comes with a cream recycled cotton picnic blanket (not shown).
Woodruff's ecosac is decorated with recycled beads & button, and matching hemp twine detail. He has the original Ecobear leaf motif on his left foot. He arrives with his very own artist signed hemp adoption card.
Woodruff is hand made using solar energy, so he arrives with a little sun in his heart too.
Woodruff is a One of a Kind collectors' item and is not suitable for young children.
Size: 8.25″ tall.
Price: £79.00 including worldwide registered post & packing.